Easy Use Ideas – Sprinkle on/Add to:
Eggs while scrambling or frying
Soup / chili / stew
Stir-fry
Popcorn
Peanuts, mixed nuts
Salads
Tomatoes, Avocados
Potatoes (french fries, sweet potato fries, home fries, etc.)
BBQ'd Meats
Fish (great for blackening)
Baked kale chips
Leftovers (spruce them up!)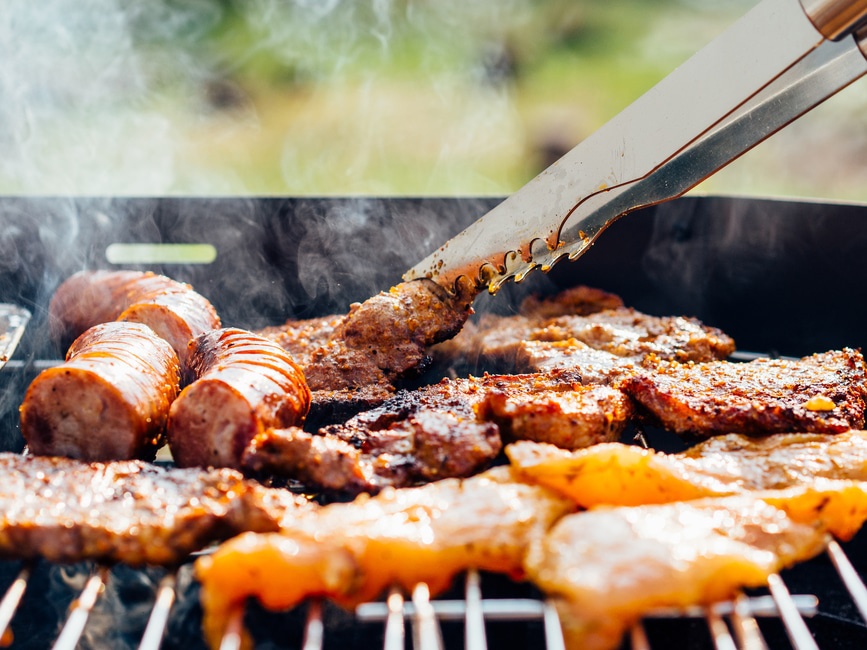 I love my food bold and spicy. Life should be lived the same way, filled with exciting adventures. One of my most treasured inspirations in life was my sweet little Mexican Granny Dickerson. Born Delia Ruby Lopez in 1909, her quest for adventure led her to the circus, where she became a snake charmer at age 14. Granny's home was always filled with the comforting aromas of traditional, full-flavored Mexican cuisine, shared and savored by her big, wonderful family. Her enjoyment of life's simple pleasures, coupled with her adventurous spirit, was the inspiration from which I created Eric's Wicked Seasoning(TM) in my own Montana kitchen.
Wicked is a lively blend of aromatic herbs and spices that will hug your taste buds, with a bit of a mischievous bite. Let the robust, spicy flavors of Wicked enhance your barbeques, soups, salads, salsas and other culinary creations. Click the photos below to see
…my snake-charming Granny Dickerson, my inspiration.
Eric's Wicked Seasoning has be known to stretch to the far corners of the world. Wicked is a favorite for Alaskan Fishermen, Montana Outdoor Enthusiasts, Bayou Billies, and anyone else who loves to add that extra spice in their life.
It's found on mountain tops, river bottoms and in deep canyons. It's your number 1 companion for your backpack, kitchen cupboard, glove compartment, chest pocket and purse. If you've taken Wicked Seasoning on an adventure submit your photos below for a chance to have them featured on the Wicked website.
Submit Your Wicked Photos
Great Falls
Albertsons – 10th Avenue | 2250 10th Avenue South
Albertsons – 3rd NW | 1414 3rd Street NW
Everyday IGA | 2505 6th Avenue North
Wines by Wednesday | 312 5th Avenue South
2J's Fresh Market | 105 Smelter Avenue NE
The Shops at Benefis Health System (4 Locations)
East Campus (2 gift shops – one in each tower lobby) | 1101 26th Street South
Orthopedic Center of Montana | 1401 25th Street South
West Campus | 500 15th Avenue South
Pizazz | 403 Central Avenue
Conrad
Windrift Hill Retail Store | 120 South Main |
Billings
Leslie's Hallmark | Rimrock Mall | 300 South 24th Street
Bonanza Health Foods | 923 Grand Avenue
Gift Corner – Loose Ends | St Vincent Healthcare | 1233 N 30th Street
Bozeman
Heeb's East Main Grocery | 544 East Main Street
Sola Market & Cafe | 290 W Kagy
Belgrade
Chalet Market | 6410 Jackrabbit Lane
Big Sky
Roxy's Market | 20 Huntley Drive
Helena
Van's Thriftway | 306 Euclid
Leslie's Hallmark | Northside Center | 3321 North Montana Avenue
Leslie's Hallmark | Capital Hill Mall | 1600 11th Avenue
Kalispell
LaSalle Lighting | 2590 Highway 2 East
Withey's Health Foods |1231 South Main
Columbia Falls
Sundrop Health Foods | 639 9th Street West
If you're interested in purchasing Eric's Wicked Seasoning you can find a retailer near you. You can also buy Wicked online by clicking the link below.
Buy Online